Otis Verhoeve (°1999) is a graphic designer & type designer based in Brussels. I studied graphic design for 4 years at LUCA School of Arts Ghent until 2020 and later on followed the Expert Class Type Design at the Plantin Moretus Institute in Antwerp (2020–2021), under supervision of Frank Blokland.

My practice is situated in between bespoke typefaces, graphic identities, book design, logo design and other printed matter. My clients come mostly from within the cultural field such as record labels, nightclubs, festivals or magazines and I value a close and long-term relation with my clients highly.

Besides client based work, self-initiated projects such as 'Muslimgauze Zindabad' or my typefaces such as the 'LD Family' or 'Holger' remain important for me to keep some autonomy over my work.

The use of graphic systems to create imagery for a client, and a strong feel for typography, are one of the main pillars behind my work. Whenever needed I can count on a strong network to collaborate with, they are situated in the fields of Photography, Video (editing/filming), 3D Design, Web Development, Screen-printing & Sound Design.
UPDATES:
— Internship at Corbin Mahieu & Lennart Van Den Bossche (october—december 2021)
— Contributed a 'Message in a Bottle' risograph for Moriso Editions (December 2021)
— Interview with nacht (2020)
— Nominated for Marc Meulemans Award for best artwork on Red Bull Elektropedia Awards 2019

COLLABORATORS:
Jente Waerzeggers (Photography), Lewi Moors (3D Design), Victor Maillard (Video), (Screen-Printing), Septian Priyatna, Gerd-Jan Princen, Iza Maeseele (laser + mirror + sound), James L. Hubbell (Horst Design Lab)

Muslimgauze Zindabad
Editorial & Book Design, 2020.
Graphic Identity, 2019–2021.
Graphic Identity, 2020–Ongoing.
Book Design, 2020.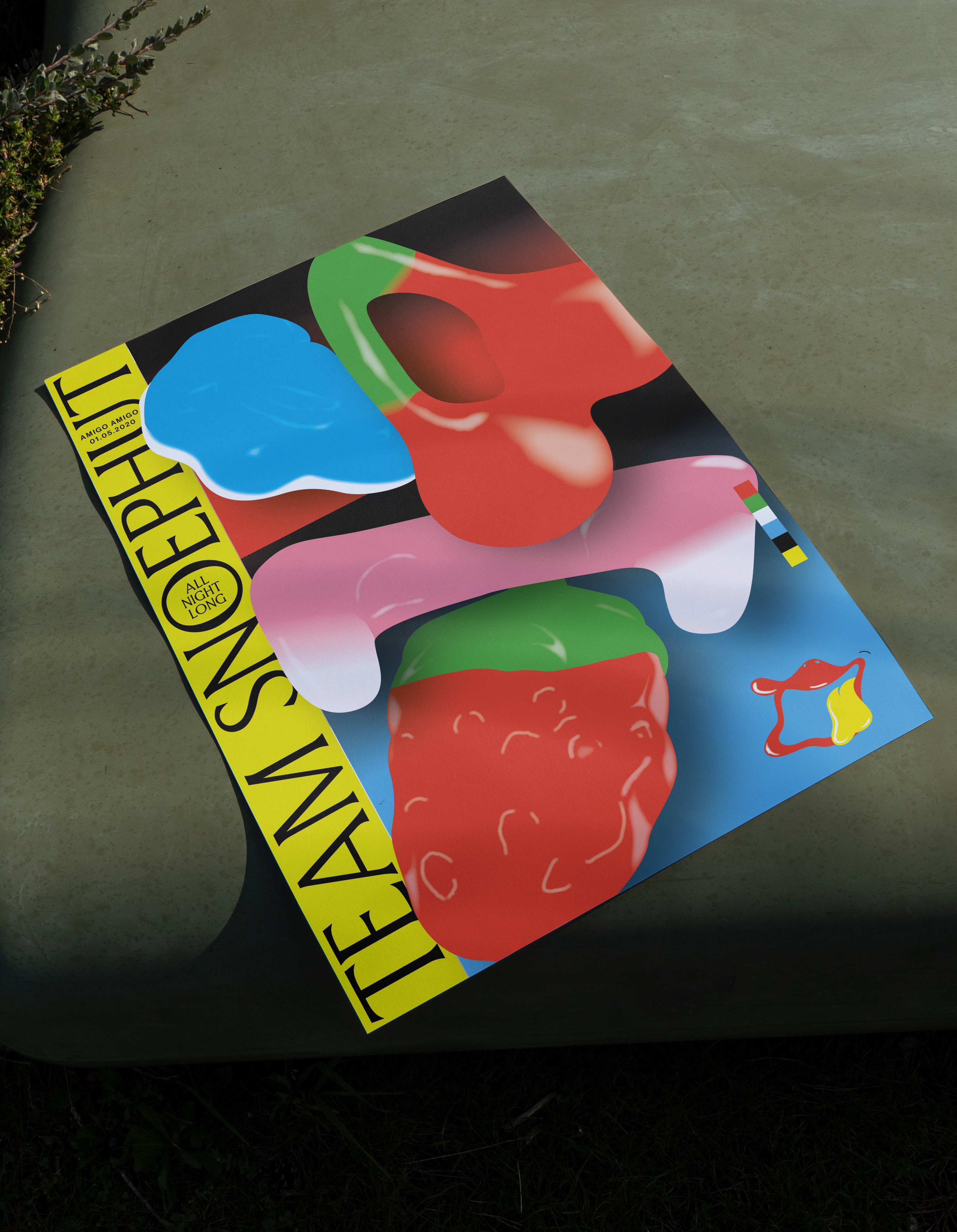 Snoephut

Poster Design, 2019–2020
Graphic Identity, 2021–Ongoing.
AV Installation & Flipbook, 2020.
Sleeve and centerlabels, 2020.
Habitat Festival 2019
Graphic Identity, 2019.
Tourdates AliA
Poster Design, 2020.
Workshop, 2019.
A0, 2019.
MUGA001
Unselected Pitch for MUGA, 2021.
Offworld Senses
A3 Risograph for
nacht
, 2020.
+ various posters
+ various logo's